I had dreamed about it for a long time, fought for it even longer and received quite a few refusals. On 1 November 2019 I finally published my first self-written book: "How To Survive Mobbing". It was a little dream that came true. Because I was not only allowed to do what I loved (which is writing), but at the same time I was allowed to set an example against bullying with my book, with my story – because that is a matter of my heart.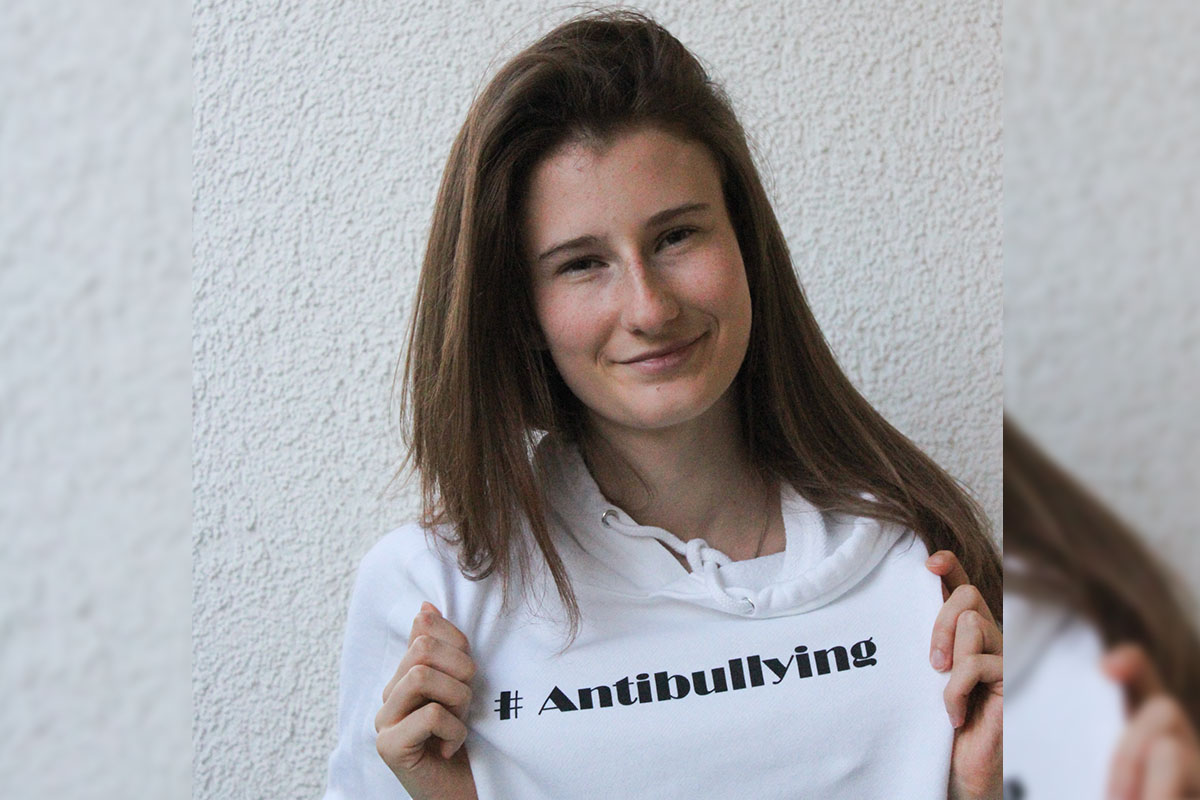 Day in, day out, bullying and cyberbullying is an ever-present problem for thousands of children at school. And yet the subject is still often swept under the carpet. It is not uncommon that teachers and schools ignore the issue and deny it. "Bullying? Here? Absolutely not. There is no bullying at our school." I too have heard these sentences and would have preferred to kick the bucket then, many years ago.
I was eleven years old and I had two years in school which, long story short, were just hideous: Rumours, blasphemies, fisticuffs, slips of paper larded with insults, conversations that lead nowhere, a chase on my way home where a car almost hit me. Two years in which the school has done nothing until my parents finally threatened to call the police. And just at that moment the school intervened, the bullying subsided. Many years later I made three signs of the cross with my school leaving certificate,  turned my back on the school and promised not to keep quiet but to publish my story one day to set an example against bullying.
"How To Survive Mobbing": A sign against bullying
Just under a year and a half after graduating high school, I signed an author's contract with Schwarzkopf & Schwarzkopf Verlag in Berlin. For nine months I worked on my book "How To Survive Mobbing" and combined my personal story with theoretical aspects of bullying.  During this time I had my doubts about publication, cursed memories that came back to me and yet every day I looked forward a little bit more to the day when my book would be published.
The only thing that has remained from this time of bullying and which gave me strength back then, accompanied me also in the time when I wrote my book and afterwards: the music of a singer. In spring 2019, he released a song that seems to be about bullying. A song that speaks from my heart. There are not many people who understand what it means to be bullied. But I was lucky enough to get to know the music of a person who apparently has an idea about it – I could not have been luckier. Since then, I have come to appreciate the music and pay immense respect to the person behind it.
Hamburg, Weimar, Vienna, London, and Munich: "Together against bullying"
With music backing me up, things really started on 1 November 2019. It was the most indescribable feeling when I  held my first self-written book in my hands for the first time a few days earlier and flipped through it. Because it is one thing to leave an unpleasant time behind and another to create something positive from that time and approach the whole thing from a different angle.
A few weeks later I filmed a second time after 2018 with Sat.1 Bayern a short article about bullying. Shortly afterwards I received an invitation from Radio TOP 40 in Weimar to record an episode for the podcast "Kirschkerne und Kartoffelsalat" with Caro and Anna.
In Vienna I spoke to the editor Paul Buchacher, whom I had met several years ago during an interview for Radio NJoy 91.3 and who now interviewed me for Radio Orange. In December, I was very lucky to receive an invitation to a concert by the singer in question in London – and I think that I have never been able to enjoy a concert as much as I did then.
In the new year, things went on in a blink of an eye. I travelled to Hamburg to produce an episode of "Echte Mamas" podcast together with Isabel – and to take a look at the wonderful city. In Munich I met with a journalist and talked about my book "How To Survive Mobbing", which finally led to eight pages in the "Magazin Schule" (Focus, Burda) and bullying as the topic of the front page. The specialist magazine for complementary medicine Co.med also reported on my book. Finally, in August I wrote a guest article on the subject of  bullying for the blog "Heute Ist Musik". On 29 October, another guest article of mine appeared on the blog "Stadt Land Mama" by Lisa and Katharina.
Set an example instead of remaining silent – because bullying can affect anyone
Soon a chapter of my book "How to Survive Mobbing" will be the subject of a classroom discussion in a school in Munich. Another wish that is now coming true, because this is exactly the place where I saw my book from the beginning, and these are exactly the people I want to reach with my book.
Personally, I have never been interested in selling hundreds of thousands of copies. Nor was it ever my intention to get back at someone who was once actually involved in my story. I want to set an example against bullying – and unfortunately, my story is a pretty fitting example of this. For me it is the past. Nevertheless, it is important to draw attention to difficult issues like this one, which no one seems to want to talk about so much. But it is particularly unpleasant issues that need attention. After all, bullying can happen to EVERYONE.