The year 2018 marks the start of HUX. Two young men from London released their first song It's Alright. A few years later, only one of the former duo remains: George Huxtable, whose nickname inspired the name of the band. In 2023 there will be a lot to hear from the singer/songwriter. In the interview we talked about two new songs, the story behind HUX and his plans.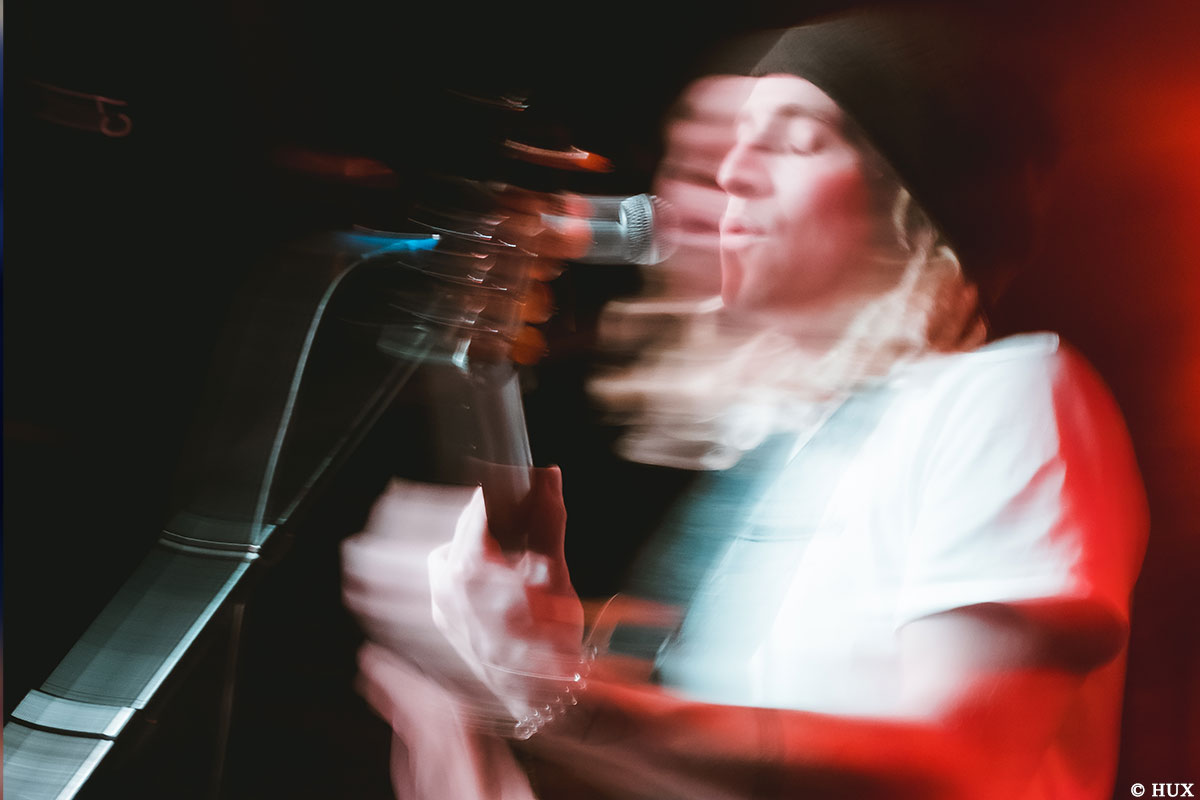 "My dream is being able to make a comfortable living from playing and writing music. Just being a musician. I love doing that", he explains. Having grown up with music near Melbourne, he moved to England with his family while still at school. In London, the duo HUX is formed with a school friend, Pat Keating. "We ended up playing at clubs together all-around London. We played and played, and it was so great", he remembers. In 2018, the two finally released their first single It's Alright. "It was really exciting. We had been playing music for a few years. I felt like I had lots of music out there already. For a long time, people were like 'Oh do you have anything on Spotify?' And we always had to deny. I suddenly felt like: Now we're real musicians with something to show."
HUX as support act at a secret concert in London 
In 2019, they suddenly stand overnight in front of almost 3,000 people on a stage in London's Camden district. "What a special night that was", George remembers with a smile in his eyes. "That still stays crystal-clear in my mind – that whole evening." The duo performs as the opening act of world-famous star Robbie Williams at a secret concert. "We had a very lucky connection", he explains.
A few years earlier, Karl Brazil, the drummer for Robbie Williams, had joined through a contact to a studio session with George and Pat. He played the drums to a song that was written that day. "We had no idea who he really was. Pretty soon we found out who he works with, who he drums for. It was all very overwhelming." They stayed in loose contact afterwards, and Karl became a bit of a mentor for George and Pat for a short time. "And then, out of the blue one day in 2019 he called me while I was working in a pub and said: 'George, you wanna support Robbie Williams?' It was a really lucky opportunity that we had to take."
HUX's first EP was released in 2021 
During the corona pandemic, the duo got the chance to work with LAB records, an independent label. "They signed us for the Lemonade EP", George explains. Four songs, including the eponymous single Lemonade, Headrush, For You and I Know You're Leaving Too, are included. Eventually it became clear that, due to the lockdowns, the two could not be productive enough to continue working meaningfully with the label. It also became increasingly hard for George and Pat to make music together.
"The balance kind of shifted naturally. I took on more of what was seen by everyone out there on social media. We couldn't take any photos together; we couldn't do any videos together. When I started to take on more responsibility with the music, Pat started to think about what else he wanted to pursue. When the lockdowns were over we just decided to do our own thing – and it's all very friendly." They are still good mates, he emphasizes.
The meaning behind HUX's new tunes
At the moment, George wants to build an audience and write songs he really loves. Of course, he would like to be signed to a label again, he tells me – at the same time that's not the main focus. "I try to slowly build a team around me", says the 26-year-old. His latest songs The World Stops When I'm With You and Hands On The Wheel were created in collaboration with friend and producer Alex Larsson.
"The World Stops When I'm With You is about allowing yourself the time to slow down and appreciate the people that make your life better when you're in sort of tough times. Coming away a little bit from the chaos of day-to-day life."  The second song, Hands On The Wheel, was written when George himself was going through a difficult time. "I was talking to my sister and I was quite upset. She told me that I just have to control what I can in this kind of moment and then move forward. I've heard people saying that before but for whatever reason it resonated with me a lot more in that moment. The next time I went into the studio I brought that concept to the song we were writing. The whole 'control what you can' thing became the focus point. And that's where Hands on the Wheel came from – it was a driving metaphor."
HUX: Big announcement at the end of the year
One thing is already certain: with or without a label, it will not stay as only two singles in 2023. Almost every month a new song will be released. "I'm really proud of what's already been released." It reflects the writing and recording process of the past two years, he tells me. "Writing a song and imagining how it's going to come across live: that's what I love the most about this process. Writing with the hope or the aspiration of being able to play the songs to a big group of people."
"Towards the end of the year there's going to be a big announcement", says George who describes his music as "soulful pop". Without going into further detail, he speaks of a coherent project that will be published at the end of 2023. Fans can certainly look forward to significantly more songs.
The 26-year-old says that he isn't yet making a living from his music alone. As he continues to hone his career as a singer/songwriter he works in a café. "I like making coffee, I like interacting with people in cafes. But my dream is very much to be on stage." Because that is what really fulfils him.